The four Fitzwilliam pieces have been catalogued as Sheldon – meaning tapestry made in England, specifically at Barcheston, Warwickshire in the later sixteenth century – in a workshop for which a prospering country gentleman, William Sheldon, made plans. Provisions for its firm establishment were set out in his will of 1570; some of the terms were newly introduced measures, others may have been additions to, and a recapitulation of, existing circumstances. Though briefly mentioned on William's epitaph in Beoley church, Worcestershire, the workshop's existence made no mark on popular history and it is not clear what degree of success it enjoyed. Its products were recognised only during the 1920s; none of the tapestries called Sheldon is documented in any way, whether from workshop accounts, contracts or by specific mention in a will or inventory. There is therefore no incontestable basis on which the pieces now so-called could, or can, be attributed to the workshop whose employees are also hard to trace and seemingly few. Although an attempt was made in 1928 to establish criteria by which Barcheston products might be recognised its basis was weak and largely suppositious. Such little justification as was used to bolster its value has since been found to be defective. There is room therefore for a new approach to the questions associated with the manufacture of small tapestry-woven pieces.
History of the 'Sheldon' workshop
The idea that the provisions of William Sheldon's will created a large and capable workshop began only in the 1920s, the result of three main discoveries. The first was that William Sheldon's will came to light because a catalogue of wills deposited at Somerset House was printed, making it easier for local researchers to find the documents9. The second was an exhibition in 1914 of tapestry maps at the Victoria and Albert Museum; each bore the arms of a member of the Sheldon family, quite sufficient reason for the tapestries to be called Sheldon without any need for association with the will. During that exhibition two other pieces of the maps came to light, prompting the thought that if indeed a workshop had come into existence it was possible that more pieces have survived10. Tentative claims for one, the Four Seasons at Hatfield House had already been made, with little substantiating evidence11. In 1919 a retired Worcestershire dentist, John Humphreys, convinced more examples could be found, discovered five tapestries that he believed were Barcheston products at Chastleton House on the Oxfordshire-Worcestershire border12. His assumption was based largely on the proximity of Chastleton to Barcheston and on his erroneous belief that the house was owned in 1595, the date on one of the tapestries, by Walter Jones whose initials were said to be in four of the five pieces (also incorrect information). Even allowing for the absence of knowledge at the time about tapestries13, and more particularly about an English style, neither of his propositions was ever a reasonable basis for the attribution of pieces.
Numerous other mistakes marred Humphreys' work presented to and published by the Society of Antiquaries in 1924; further infelicities marked a survey by A.F. Kendrick, Keeper of Textiles at the V&A, rendering the conclusions of both men invalid14. In 1928, further research was undertaken to correct these ill-founded attributions in an attempt to stem the flow of tapestries that had come to be ascribed to the workshop, a phenomenon much helped by the behaviour of dealers15. A local archivist, E.A.B. Barnard, looked again at the terms of the will and gathered such information as he could about the man Sheldon put in charge, Richard Hyckes, and about those few who worked there. A.J.B. Wace, by then Kendrick's successor as Keeper at the Victoria and Albert Museum and a classical scholar with a deep knowledge of Greek embroideries, investigated the ever-increasing number of tapestries shown to him. Given that nothing was documented and lacking a better starting point, he cautiously accepted that the Chastleton finds were Barcheston products, qualifying that acceptance with the words "it is reasonable to assume that these tapestries were woven in the Sheldon looms." His guarded reservation is regularly overlooked16.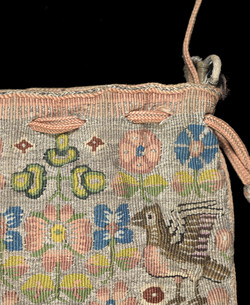 Detail from a purse, T.8-1961
© Fitzwilliam Museum, Cambridge
From their stylistic characteristics he deduced criteria by which Sheldon tapestries might perhaps be recognised. He isolated five such traits: hunting scenes in the borders; floral grounds; barber-pole (striped) borders; arcades, masks and herms, woven initials and inscriptions in English17. However, the stylistic affinities of the Chastleton tapestries suggest an origin in a German atelier, rendering Wace's conclusions untenable; it was by his criteria that the Fitzwilliam Museum's pieces were classified18.
The cushion covers, though lacking grotesques in the lateral borders, have hunting scenes in the horizontals; the purse resembles Wace's third category which associated five small tapestries; all measured around 8 x 11 inches, all had a high warp count and a large percentage of silver thread and a striped outer border. Two had an English inscription, considered to indicate an English origin.

Detail, T.7b-1961
© Fitzwilliam Museum, Cambridge
A changed picture
Even at the time the basis of Wace's categorisation was challenged as being too speculative and over-dependent on assumptions19. Today, in the light of greater knowledge of tapestry history20 and of many more examples categorised on those principles21, found both in this country and in Europe, his praiseworthy attempt looks weak, not least because the underlying assumptions about the Chastleton finds can be seen to be incorrect22.
The same fate has overtaken Barnard's attempt to illuminate the circumstances in which the workshop functioned – partly because there is now far more documentary evidence than Barnard could find, but largely because he, unlike students of other crafts, failed to acknowledge any role for the émigré workmen who came to live in London, bringing with them skills unknown in England, then dependent on imports for many of its luxury products, including tapestry. This lacuna in Barnard's survey was first remarked on by Wendy Hefford in 2000 when she also observed that possibly Richard Hyckes, rather than being an Englishman as the earlier writers asserted, might be a Flemish immigrant. Like many others named in contemporary documents, he may have altered his name in an attempt to assimilate more easily into his adopted country23. This idea was developed by Turner24; she points out that Hyckes was aged around 40 when first mentioned at Barcheston25, an advanced age at which to serve an apprenticeship if, as Anthony Wood (1632-1695) noted late in the following century, Ralph Sheldon (1537-1613) apprenticed Hyckes abroad to learn the tapestry business. Since it was William Sheldon, his father, who planned the tapestry project that later tale makes little sense26.
Hyckes is more likely to have been a man of some experience27. In view of the increasing numbers of Flemish émigrés coming to England at the time there was little need to despatch an Englishman to learn the trade abroad. Furthermore, the fact that Hyckes was designated Queen's arrasmaker – head of the royal conservation department in the household at the Great Wardrobe – in 1569, a year before William Sheldon's own plans were finalised, suggests that he, like his predecessors in the post, is more likely to have been a Fleming.
Tapestry weaving is not known to be a skill practised on any scale in medieval or early sixteenth-century England so that the increased knowledge about the numbers of émigré weavers resident in London between 1559 and 1619 alters the balance of the picture presented in the 1920s28. John Humphreys and A. F. Kendrick only grudgingly admitted the possibility of a few foreign weavers while Barnard insisted steadfastly on the English nature of the Sheldon enterprise as also of the composition of the arras workers employed in the Great Wardrobe; he ignored the fact that the list of their names he included, albeit from the work of another researcher, strongly suggests the opposite29. The burial of Peter the Dutchman in Barcheston parish registers in 1590 was noted but its possible significance – that Hyckes brought Flemish labour from London - was not fully explored.
Further new information also sheds a different light on the Barcheston project. Wendy Hefford discovered a reference in the Returns of Strangers in London in 1571 describing an arras worker Henrick Camerman, as a 'bachiler, a man of 29 years, borne in Bruxells' who had come into England in June 1564 to serve Mr Sheldon, 'where he hath dwelled vi yeares, and the rest here'30. Though we know of him only later in London where he appears to have sought to work independently and not at the Wardrobe, the information about him tallies with that from evidence in a court case where four of Hyckes' men testified on his behalf; their names suggest that some at least were foreign-born, while their ages indicate that some were apprentices and others journeymen. Together they might have been a team working for Hyckes even before he arrived in England.
One of those men, Humfrey Geerts, took the chance of employment in the Wardrobe in 1570; some seven years later he was followed by another, Richard Cattell. Subsequently, other Barcheston-associated weavers, most of them in their early twenties when they would have completed their apprenticeship, also transferred to the Great Wardrobe. The suggestion is therefore that Hyckes fulfilled Sheldon's intention 'to train youth' as he phrased it in his will. The link to the Wardrobe was strong because Richard Hyckes, the man put in charge of Sheldon's enterprise, was accepted as the department's next head in January 1569 and he was called upon to exercise his duties in October 1570, upon the death of the previous holder. The implication of this information, also recently discovered, is that Hyckes was assured an income irrespective of the outcome of Sheldon's plans; it means also that he was immediately in touch with skilled Flemish arras weavers who dominated the personnel of the department31. Confirmation of his post, delayed until 1575, conferred on him the right to operate his own workshop though with the proviso that he should employ only men born in England. The phraseology supports the idea that Hyckes himself was foreign born and was in this way accorded his denization (naturalisation), with the obligation to pass on his unfamiliar skills to native-born men. Alien craftsmen practising other skills were certainly given their denization on the same conditions.
In turn this fresh information sheds new light on the terms of William Sheldon's will, the only surviving testimony to the establishment of a weaving venture – though in 1570 not the only document to deal with the matter, presumably because the project was not yet on a firm footing. The will was written in two stages, revealing how the project developed. The first stage was the purchase of the market tolls of Bishop's Castle, Shropshire, which would pass to Sheldon's grandson in 1586; until then the money was to be used as loans to those 'working with' Hyckes, probably meaning serving an apprenticeship. £20 was available to English men, to be repaid within ten years; strangers – Elizabethan legal speak for the foreign-born - could borrow 20 marks (£13.6s 8d) also repayable in ten years. Almost certainly this was intended as set-up capital for the borrower. Barcheston manor house finally passed into William Sheldon's ownership in 1564 after a lengthy legal battle32; the earliest reference to Richard Hyckes in the village occurs in 1567. From 1570, and possibly before, we know that he was to occupy the house rent-free on condition that he wove or organised the weaving of arras, tapestry, moccadoes, carolles, plometts, grograynes, sayes and sarges; the latter are all cloth fabrics whose manufacture was more familiar amongst Flemish weavers than to Englishmen. He was also allotted grazing for 17 oxen, 6 horses and certain other cattle, obliged to continue the carrying services attached to the manor and to provide a certain quantity of malt every year to the family. A rather baffling clause refers to further monetary guarantees.
The project's execution was entrusted to three men; Richard Hyckes, by 1570 aged around 45, Thomas Chaunce, who disappears almost immediately from the record, and William Dowler, who lived at Stretton on Fosse (another Sheldon property). He was entitled to a loan of £26 13s 4d – double the amount allowed to other strangers. He may therefore quite possibly himself be foreign-born and a journeyman with Hyckes.
The clear provision of measures that would benefit 'strangers' and not only native-born individuals shows how closely in tune with contemporary thinking Sheldon's plan was. His venture was neither novel nor unique; Sheldon needed the strangers because they had the skills. Others too had brought teams from the Continent, amongst them the Earl of Ormond and the Earl of Northumberland33. It was not uncommon to leave money to benefit younger men unable to set up in business because they lacked capital; masters might do this directly or it might be done on a less personal scale. Mindful of the gift from his former master that had enabled his own start in business the London clothier Sir Thomas White left substantial bequests first to Coventry and later to Bristol to purchase land, the interest from which was then lent as business start-up capital. Following that example, Coventry mercers left money to the corporation of Warwick and Sir John Hubaud to seven separate towns34. All imposed the same conditions – a loan to be repaid within a defined time-scale so that the money could then support others, exactly Sheldon's plan.
Nothing in the will suggests that the scheme was a 'for profit' venture; nor do we know now of any mention arranging that a percentage of Hyckes' profits should come to the family, though that is not impossible. Sheldon declared his motives to be the training of youth in order to stop money leaving England to pay for goods imported when they could be manufactured here. The question of England's increasing dependence on foreign imports of items that could as easily have been made at home was a common preoccupation. It was the reason behind the encouragement offered by the Privy Council to the settlement of foreigners with skills needed in England. Thus the towns of Sandwich, Canterbury, Maidstone, Colchester and Norwich all invited 'strangers' to settle there; even York made the attempt though the one known stranger weaver did not stay long. William Cecil attempted to establish a settlement at Stamford around 156735, much the same time that Sheldon's venture was under way and, as we have seen, the movement already had a long history. Those who came to London fared best, but even they did not always achieve fortunes.
The towns in England where émigré weavers had settled around 1575.
© The Bodleian Library, University of Oxford
Much known now therefore weakens the validity of the early twentieth-century researchers' work. Although the name 'Sheldon' is in wide use, the way in which the pieces were named and the too-ready acceptance of a theory based on scant evidence has obscured the many questions that should be asked of the tapestries themselves: how did a workshop far removed from any centre of commercial or cultural activity fashion its designs; how did it attract labour; where did it find its markets; how and why are there so many stylistic variations – thematic and decorative - to be seen in small tapestries depicting the same theme. Finally, and more widely, what was the demand for such items and amongst whom and, though such an attempt must remain speculative, how were these small products used?